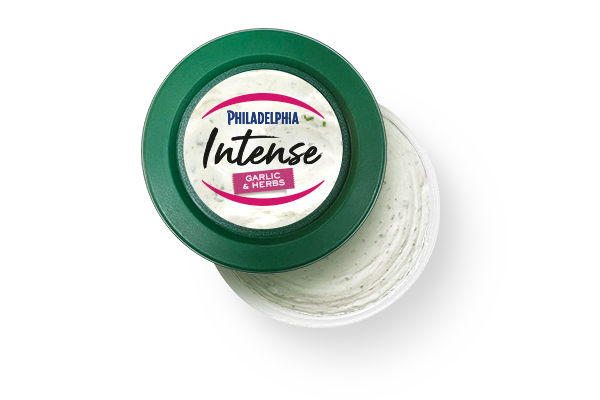 Back to all Products
Philadelphia Intense Garlic & Herbs
Ingredients
Full fat soft cheese, garlic (2 %), parsley, chives, salt, lemon juice concentrate, white pepper, natural parsley flavouring, stabiliser (locust bean gum).
Made with natural ingredients.
Give your tub a second life
A regular Philadelphia tub can make a great home for you to grow your very own herbs. You just have to:
1. Add some soil in a clean tub;
2. Plant the seeds;
3. Watch your herbs grow.
Read about recycling our tubs
Typical values
Per serving 100g
GDA
%
Energy
1147kJ / 278 kcal
2000
13.9%
Protein
4.5g
50g
9.0%
Carbohydrate
3.1g
260g
1.2%
of which Sugars
2.7g
90g
3.0%
Fat
27.0g
70g
38.6%
of which Saturates
18.0g
20g
90.0%
Fibre
0.2g
24g
0.8%
Sodium*
1.2g
6g
20.0%
Do you feel like we are missing a recipe? We always listen to friendly advice.
Email us
There are no silly questions
View all FAQs